Bring Back Comfort Fast with Our Exceptional Furnace Repair in Truesdale, MO
Despite icy lows, winter at home is supposed to mean enjoying the comfort your furnace brings you and your family. A broken or malfunctioning heater is the last thing you want to put up with when there's a cold front at your doorstep. Leave your furnace troubles in the hands of Schraer Heating & Air Conditioning, the top name in Truesdale, MO.
All of our professionals are fully trained, licensed and insured to handle a huge range of furnace malfunctions on all systems. This includes both home and commercial systems. Whatever the problem is, we have the experience to spot and fix it promptly.
We're devoted to offering you the best customer service possible for every visit. We'll race out there to get your heat repaired right away, regardless of how difficult the fix may be. Whether you need emergency service or fast, routine maintenance, we're the best equipped to keep your furnace in great shape. Icy weather will have to find someone else to bother.
With your furnace being such an important part of your home's utilities, severe damage is complicated to deal with. Serious problems should be left to trained and insured repair techs. They have the skills and tools to reduce risk. That doesn't mean there aren't minor projects you can perform to supervise your furnace's overall health. By using your eyes, ears and even nose, you'll quickly notice something unusual. You'll have the chance to call a professional before it gets worse.
The thermostat, circuit breaker and other electrical systems are important to monitor. Look for damages or inaccurate displays. If reviewing these systems doesn't uncover the problem, it would probably be best to call for professional help.
Another quick job is keeping the heater free of excess dirt and other substances. This is especially helpful around intricate parts like the pilot light or flame sensor. Not only will you decrease the likelihood of a problem, but your system will perform more efficiently as a whole.
Keep in mind there's nothing wrong with letting a technician worry about these things as well. We know how to make the most out of even the smallest tasks with minimal cost to you. If a problem seems beyond your ability to fix, let us know!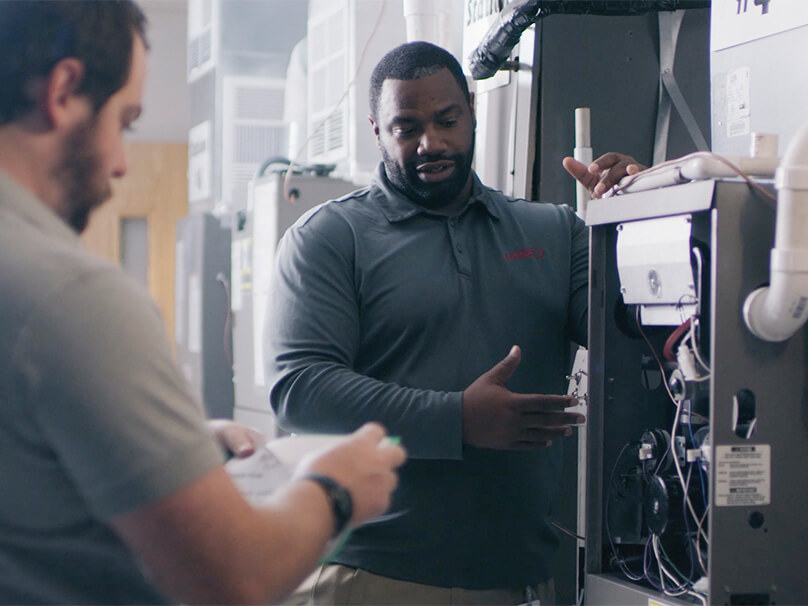 Furnace Service in Truesdale, MO and Surrounding Areas
On the hunt for furnace service in Truesdale can be an aggravating, time-consuming chore. Schraer Heating & Air Conditioning has a reputation for prompt, reliable workmanship. When you choose us, you'll learn how painless HVAC maintenance can be.
Safety and satisfaction are priorities among our specialists. We work tirelessly to reduce risk. We'll prevent things like carbon monoxide leaks, electrical fires and other hazards. You'll enjoy a lower likelihood the system fails entirely, leaving you with a pricey repair to deal with. The knowledge a professional is monitoring your HVAC system provides lots of peace of mind over a furnace's lifetime.
Ask about participating in one of our annual furnace maintenance plans. They're developed to create the ideal schedule for routine service visits. We'll have the chance to conduct a detailed review of every major part. Not only will this help keep your warranty active, but your furnace will be running more efficiently overall.
With each of these visits, we'll swap out parts that show signs of age. We'll also clean and lubricate any needing additional attention. Electrical systems are checked for faulty or damaged wiring.
But as diligent as we are, there's nothing we can do to make a furnace last forever. The older a system is, the less efficient it is, and the more likely it will shut down. Many furnaces generally last around 12 to 17 years. If yours is getting to this age, you may want to think about a replacement. Other signs include rising heating bills with no change in temperature, or excessive repair calls.
You'll know it's time for furnace installation when you're paying more in upkeep than what a new system costs outright. When that time comes, don't fret. We're happy to take some time to compare potential options for your new heater. We'll go over your budget and desired features. You'll enjoy vastly superior energy efficiency thanks to advanced technology, as well as the confidence you made the ideal choice for your home or business.
If you're searching for consistent, exemplary furnace services in Truesdale, give us a call at 636-456-5041 or contact us online to schedule an appointment today.